We can guess that the past few months have been exhausting for you. At the end of such a period, we also know that you need a quiet holiday with the person you love, without being disturbed. That's why we pay more attention to the privileges we offer for honeymooners. Our goal with our all-inclusive and ultra-all-inclusive honeymoon hotels is to leave you with unforgettable memories that you will remember for years to come.
A Privileged Honeymoon Hotel For Newlyweds
We try to ensure that you enjoy every moment of your first holiday as a family. We do not forget the full-fledged romance of the first days, and we plan some surprises specially for honeymoon couples so that you can experience this.
We aim to provide you with a loving atmosphere from the very first moment with the VIP setup honeymoon room specially prepared for you. We bring champagne and chocolate to your room to increase your happiness from the first moment you arrive at our facility. We aim to make you stand out from the routine flow of life while having a soft start with irresistible chocolates and champagne that you will drink. At Ali Bey Club Manavgat we prefer to spoil you a little more with this pleasure on the second day and bring wine and delight to your room.
Of course, we also know that one of the most romantic meals of the day is breakfast in the morning.
We serve breakfast to the guests of Ali Bey Resort Sorgun in the luxurious and comfortable atmosphere of the Resort on a day desired by our couples. In this way, we do what is necessary for you on a day when you may not want to leave the room at all, or perhaps you want to enjoy breakfast alone and effortlessly.
We add a bit of sunset romance to the magic of dinners. On a day of your choice, we offer you a romantic dinner accompanied by a sunset at the A la Carte Restaurant in our facility where you feel that nature is surrounding you. In order for such a moment to be immortalized, we also do not forget about the photoshoot.
We also offer many other activities in the accommodation that will allow you to spend your time both relaxing and active during the day. Guests can actively engage in activities ranging from tennis to mini golf, volleyball to yoga. In the Aquapark, located on an area of 15,000 square meters, you can literally have fun like children in the lap of nature.
You can enjoy the water and the sun in the quiet pool, both peacefully and very romantically. You can find many pampering pleasures, from your manicure and pedicure needs to relaxation in the sauna, at SAMARA SPA, which carries an Ottoman mysticism and was inspired by the Turkish bath culture established on an area of 2,000 square meters.
We also want you to benefit of some advantages for our honeymoon couples, with the exception of special heart chocolates, champagnes, decorations, dinners and all kinds of entertainment that are generally available at our facility. We offer Ali Bey Resort Sorgun guests a 50% discount on the use of the pavilion and a one-time 30% discount for a couples massage at the SAMARA SPA. We also offer the advantage of early booking.
Choose your honeymoon hotel now to take advantage of all the special offers for honeymooners.
Decide now on the hotel you have chosen for your honeymoon and enjoy the benefits of early booking at your all-inclusive and ultra-all-inclusive honeymoon hotel.
The Safe & Hygienic Honeymoon Hotel You Are Looking For
While we create a dreamlike atmosphere for our honeymooners and all our other guests, we don't forget the fact of the Coronavirus, which has taken the whole world under its influence. In all our hotels we take the necessary precautions for both our guests and employees.
First of all, thanks to the Safe Tourism certificate, we show that we meet the standards set during the pandemic period. We strictly follow the social distance rules and pay attention to the contact and disinfection rules of the pens used when entering to the luggage to be carried.
After our guests check out, we clean and disinfect their rooms and never accept another guest in the same room before 24 hours. We have disinfectants everywhere and we require all our employees to wear masks and, if necessary, a visor. We have disinfectants everywhere and we require all our employees to wear masks and, if necessary, a visor.
You can find out more about our hygiene and disinfection measures here.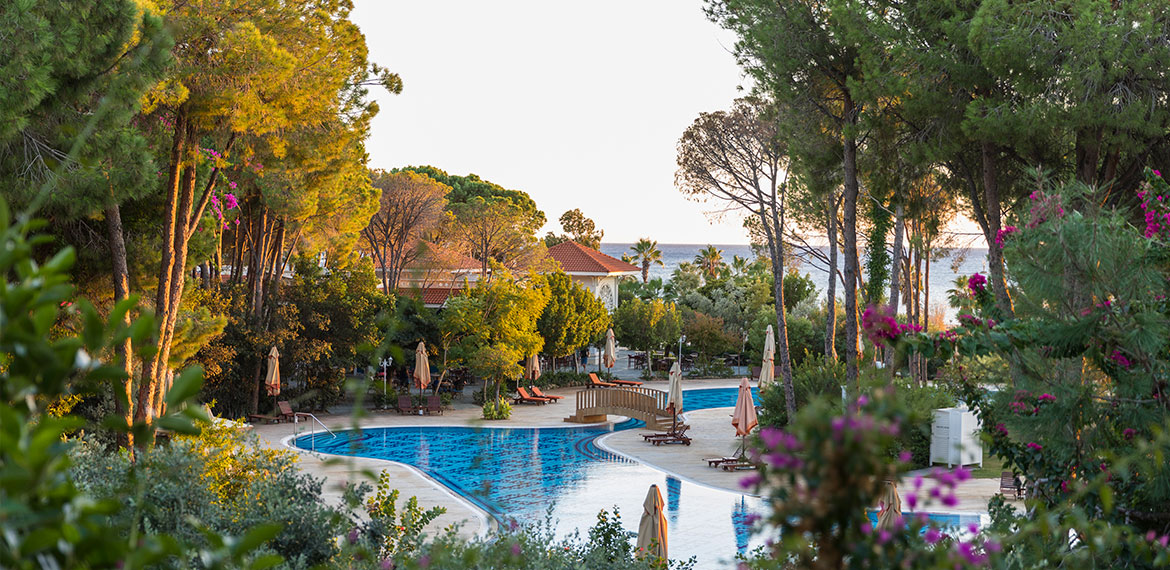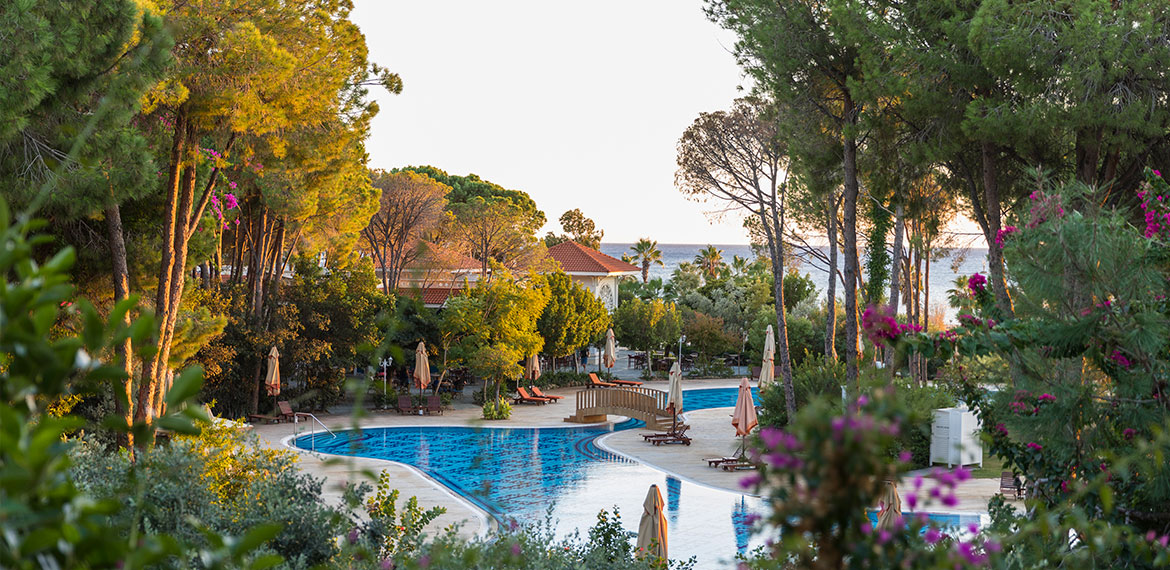 About Ali Bey Hotels & Resorts: We Are Glad To Meet You As A Family
Ali Bey Resort Sorgun located in Antalya, has "being a family" at its core, just like our first hotel, Ali Bey Club Manavgat, also located in Antalya. Over the years, we have accumulated a lot of memories as the choice of families. Thanks to our guests, the Ali Bey Hotels & Resorts family has also grown. We eagerly open our doors to honeymoon couples to witness these memories built by peace, happiness and satisfaction from the first days you started a family.
Ali Bey Hotels & Resorts Family
Our hotels are named after the first name of the founder and prominent businessman, Mr. Ali Güral.
Ali Bey Hotels & Resorts basically combines comfort and luxury with a natural ambiance. It continues to serve for many years by preserving the beauty and richness of Antalya's nature, adhering to the principles of Turkish hospitality, and most importantly, having the motivation to "be a family".
Many accommodations have a large team and a lot of circulation. In fact, this situation is acceptable for places like this, which tend to be seasonal. However, as Ali Bey Hotels & Resorts, we recognize the "right person" for our team when we see them, and we love having them with our family. That is why our employees who have worked with us for many years are an important part of our family. That's why we welcome you like family, so that our guests always have a better experience, and basically we make you feel at home.
As Ali Bey Hotels & Resorts we also show our environmental friendliness and professional detailing in the quality of service with the awards we have:
The Green Key award we received for our environmental protection initiatives;
• Tui Tierfreundliches Hotel award received by hotels that show they are animal-friendly;
• TUI Global Hotel Awards awarded in line with feedback from TUI guests;
• We have the Travelers' Choice - the undisputed best price awarded by Tripadvisor based on the results obtained from traveler feedback and many other awards.
Look now for more information about our awards.

A Break For Relaxation, Fun & Rest
At Ali Bey Hotels & Resorts, the magic of nature that flows from the Mediterranean gardens opens the door to a peaceful atmosphere, while every service within the facility will allow you to rest and relax. You will enjoy the pleasure of swimming in the heated pools without getting cold, the miracle of massage in professional hands and the taste of world cuisine with experienced chefs. By providing the fun and comfortable space you are looking for for a vacation, a happy member of the Ali Bey Hotels & Resorts family will always welcome you and ensure you have the best experience.
We have thought of possibilities for you that will force your imagination even in your most basic expectations at the facility. We take the usual animation shows from a slightly more artistic perspective and turn them into breathtaking music and dance shows. At the start of the day, we guide sports enthusiasts with expert trainers if desired. We make room not only for water sports, but also for many other sports activities, especially tennis.
We strive for an unforgettable experience for our guests. For this we offer you the most exclusive flavors in the restaurant, various massage and SPA experiences that will provide all forms of physical and mental relaxation you need, botanical riches where you can take advantage of the unique tranquility of nature and organizations that enable you to end the day with pleasant entertainment.
No matter which hotel you stay at Ali Bey Hotels & Resorts, which is a family in itself, we plan the best for you.
Choose now the best honeymoon hotel for your honeymoon and take advantage of the early booking opportunities.